When it came time to write the Introduction to our book, What I Learned About Life When My Husband Got Fired!, Red, unsurprisingly, went on (and on and on …) for pages with her usual blah-blah-blah. Black, on the other hand, cut to the chase and provided the book designer with a Microsoft Excel spreadsheet. Little did we know that comparison chart would take on a life of its own after the book was launched. Not only does it capture our extreme differences in a visual and highly efficient way, but the chart has been the source of lively conversation by readers, many of whom started describing themselves (and even family and friends) as being more Red-like or Black-like.
But perhaps nothing surprised us more than the day Red's oldest daughter came home from high school with an "inventory update" about our book. (The story of how our book became a textbook can be found here.) She had been helping out in the front office and was asked to do an inventory of textbooks, and was less-than-thrilled when led to a storage room full of books. However, her mood improved when she saw stacks of our book, and she was amused as she started reviewing the condition of each book. Not that she was condoning how the students treated the books, but she discovered that many of the cartoons at the beginning of each chapter had been torn out as "keepsakes" by students, as well as the comparison chart!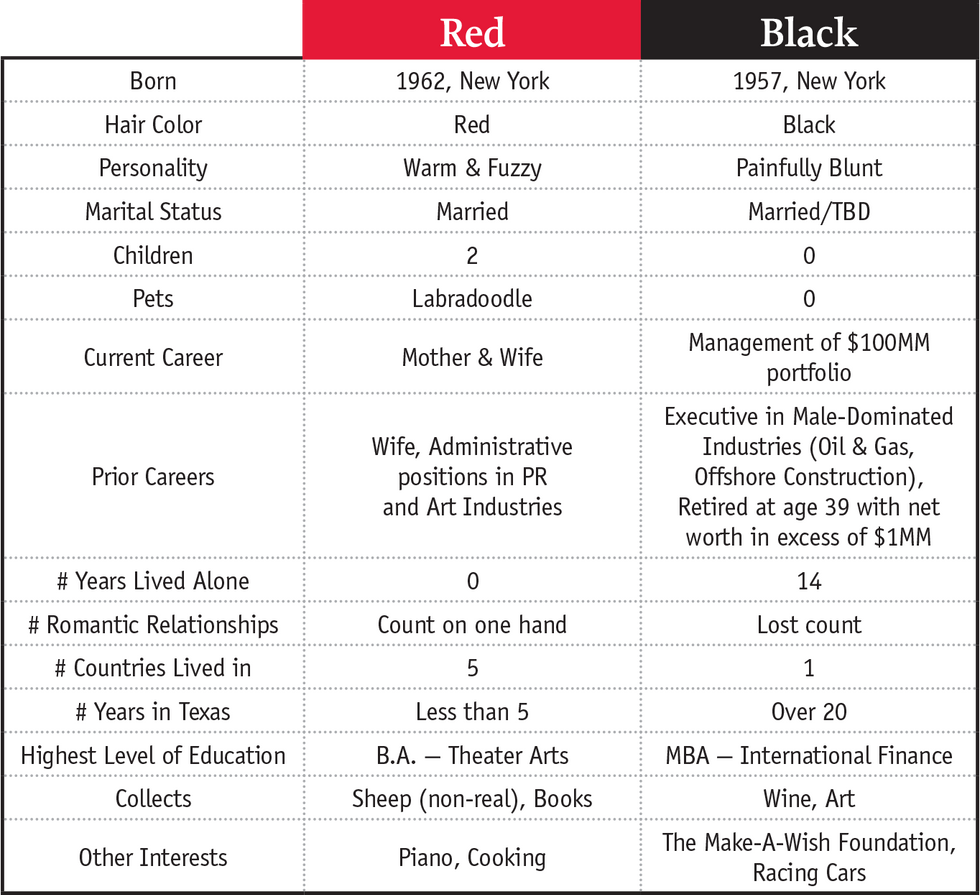 Table as of April 2004What I Learned About Life When My Husband Got Fired!
ABC/Entertainment Pictures/ZUMA Wire/Alamy Live News
It probably was not the answer Red was expecting when she asked me, "Growing up, what woman influenced you most?" My reply? "That Girl." For those of you who might not remember the sitcom that ran from 1966-1971, "That Girl" was Ann Marie, played by Marlo Thomas. This was in the days before the internet or cable television. (When you had to get up and turn the dial on the television to change channels, and there were only a handful of channels.) And, I did not realize it until decades later, Thomas had formed her own production company, Daisy Productions, to produce and own the series.
I will not get into how television influences our perception of the world. But, I will say that up until that point in time, women in prime-time sitcoms were either someone's wife, someone's mother, someone's secretary – but never someone independent. Until "That Girl." She was an aspiring actress living on her own in the big city, New York City, so it was easy for me to relate as I grew up just a short train ride away on Long Island.
I was about 9 years old when the series started so, initially, had no idea that the size of her apartment or her fantastic wardrobe was unrealistic for a struggling actress. But, it introduced me, much to my mom's dismay, to being fashionable (as did a neighbor who worked as a saleswoman at a high-end women's store), resulting in my first budget (that is a separate story that still amuses me). And, ultimately, it led me to start working when I was a teenager so that I would have money of my own.
"That Girl" focused on a single woman's dreams and aspirations. A woman who was ambitious. Willing to try new things and willing to fail. But, what made her truly revolutionary was that she made it acceptable to prioritize work over marriage or children, proclaiming, "But I don't want to get married!" Which, growing up, became my mantra.
In the last season, she got engaged to her long-time boyfriend, but the final episode of the series was not them getting married, but about them going to a Women's Liberation meeting. I can remember it as if it was yesterday, wondering at what point she would ultimately call off the engagement. It was not that I believed she would never get married; it was that the timing was not right. She first needed to establish her independence.
And, I was determined to be "That Girl."
Silsbee I.S.D.
Who knew that one of our most memorable speaking engagements would also end up being one of our absolute favorite stories, full stop. And when it comes to Red & Black, all we are … are stories, so that's saying something. But there was no way to know any of that as we set out to do a speaking engagement for high school students. And to this day, we can't decide which part of the story is our favorite … how we got there or what happened once we arrived.
Well, we were off to Silsbee High School in, where else, Silsbee, Texas. Which is about a two-hour drive from Houston and about 25 miles north of Beaumont, which was the closest city we could find to stay overnight as we were due at the school first thing in the morning for a full day (starting with a presentation to the entire senior class, and then one for the students that had used our book as the personal finance textbook in their Economics course).
STORY #1
So, off we go bright and early with me and my paper driving directions, as I'm old school and like to have everything ready in advance, plus I'm not a huge fan of technology. On the other hand, Black's busy on her iPad as we set forth on our latest student adventure. The road to Silsbee (sounds like a country western song) starts with three lanes, quickly drops to two lanes, and before I know it, I can see that it's about to go to one lane, with no signs indicating exits. And my paper directions are now useless! I turn to Black and ask her (well, really, tell her in my "panic") to see if she can find out where we are on her iPad and how to get to Silsbee, and ideally, Silsbee High School. All I can see is ruralness (Is that a word? If not, it should be) all around me, all I'm missing are some cows crossing the road. And Black's reply?
We're off the iPad!
At that point, I'm literally driving down not quite a dirt road but close when what do I see in the "not too far" distance? A school bus! A beautiful, yellow, school bus and as I get closer (ok, I may have exceeded the speed limit slightly), I see "Silsbee I.S.D." on it. I can honestly say I've never been so happy to see a school bus and I turn to Black, with excitement and hope, telling her that I'm following that bus! Because let's face it, there can only be one high school in Silsbee and I can't imagine whichever school the bus is going to, the others won't be far away.
STORY #2
Fast forward, it's late morning and we're having an absolute blast as our earlier presentation to the senior class, which surprisingly are a few hundred students, was a big hit. (That's not ego talking, we're basing it on audience participation, comments from the students before they left, and feedback from the educators who organized the event.) Now the audience is less than 20 students, and not only were they in the earlier event, but they used our book as part of their Economics class "curricula" to study personal finance. We were only scheduled to have an hour with them, formatted as a Question & Answer session, but as we're about to wrap up they asked to give up their lunch period (can you believe that?!) to have more time with us.
And then a student raises their hand and very politely asks Black,
Can you explain how you're talking to us about money and making smart decisions, but you're wearing shoes with red soles that probably cost hundreds of dollars?
My immediate thought was, wow that student knows about Christian Louboutin shoes! Quickly followed by wondering how Black was going to get out of this one. So much so that I took a seat in the front row (which made everyone laugh). And, without missing a beat, she turned the astute question into an invaluable lesson about budgeting, cost-per-wearing calculations, and investment purchases. In other words, she navigated that question much easier than I navigated the road to Silsbee.
Keep Reading ...
Show less