Memory Lane
Readers & High School Students Love This Spreadsheet
When it came time to write the Introduction to our book, What I Learned About Life When My Husband Got Fired!, Red, unsurprisingly, went on (and on and on …) for pages with her usual blah-blah-blah. Black, on the other hand, cut to the chase and provided the book designer with a Microsoft Excel spreadsheet. Little did we know that comparison chart would take on a life of its own after the book was launched. Not only does it capture our extreme differences in a visual and highly efficient way, but the chart has been the source of lively conversation by readers, many of whom started describing themselves (and even family and friends) as being more Red-like or Black-like.
But perhaps nothing surprised us more than the day Red's oldest daughter came home from high school with an "inventory update" about our book. (The story of how our book became a textbook can be found here.) She had been helping out in the front office and was asked to do an inventory of textbooks, and was less-than-thrilled when led to a storage room full of books. However, her mood improved when she saw stacks of our book, and she was amused as she started reviewing the condition of each book. Not that she was condoning how the students treated the books, but she discovered that many of the cartoons at the beginning of each chapter had been torn out as "keepsakes" by students, as well as the comparison chart!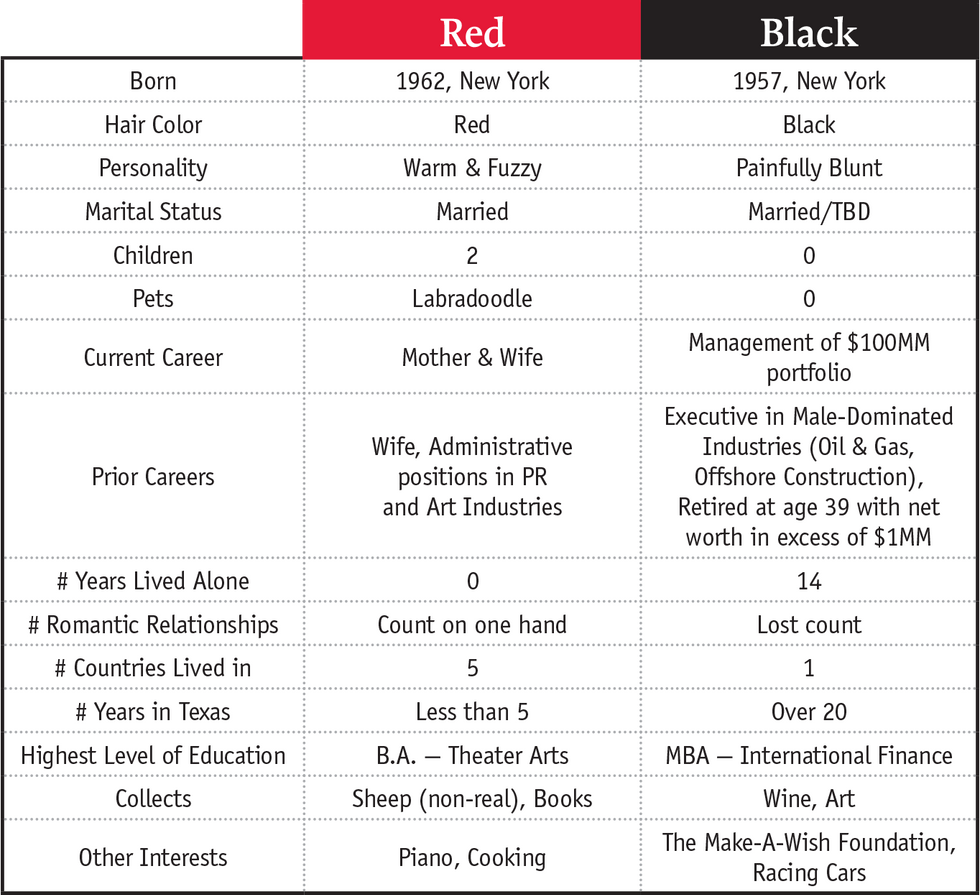 Table as of April 2004What I Learned About Life When My Husband Got Fired!
Columbia Pictures

It's Groundhog Day. Again! A day that reminds me of a great movie with a great message (see my thoughts below). Again. And this year, it reminds me that I have great friends. Now, you may wonder, what does that have to do with Groundhog Day? Well, a few years ago, I visited one of my dearest friends when she was living in Woodstock, IL, where the movie, "Groundhog Day" was filmed. Standing in the town square on a snowy night with one of my best friends is a day (well, technically a night) I'd be happy to repeat. Again and again.
Yes, I know that Groundhog Day was last week. But truth be told, on the actual day, I almost forgot that it was Groundhog Day. Until Black, on our morning phone call (we talk almost every morning – sometimes specific Red & Black items, sometimes current events, sometimes just "life") wishes me, "Happy Groundhog Day." Well, these days, every day feels like Groundhog Day, so I thought she was just being sarcastic, which wouldn't be unusual. When I started to reply with something like "yeah, same ole, same ole", I paused, because I realized, it really was Groundhog Day.
But even if Black hadn't brought it to my attention, there was still no escaping Groundhog Day, as beside it being mentioned on the morning shows, I noticed that one of the movie channels had the movie "Groundhog Day" on all day. Literally all day, as in on a loop (which seemed appropriate). It was ok with me, as it's one of my all-time favorite movies.
For me, the movie has everything. A great cast (Bill Murray was true perfection and I hope they never, ever do a remake because no one can top him), a great script that somehow made a very simple storyline come alive, and subtle messaging. Yes, each day is the same. Sounds boring. But no, because even with the same day every day there are nuances of humor, of sadness, of happiness, of goodness, of badness. And decisions to be made, or not made. Do you do the right thing, the easy thing, the unexpected thing? Do you think about yourself or others?
Yes, I know, my theater degree is showing. (Something Black claims I rarely use, except when I'm being, well, theatrical.) But it's an accurate analysis, and when I watched "Groundhog Day" for the umpteenth time this Groundhog Day, it was through the lens of the last year and the coronavirus. When I thought every day was the same. But watching the movie, again, made me realize it really isn't. Because each day gives us new opportunities to make decisions, both big and small. Each day, in its own way, is a gift. And although almost every day this last year has felt like we're living our own personal "Groundhog Day", at the same time it has taught us so much.
And this time, even though I've seen the ending countless times, it really made me stop and think …
That if we're lucky, maybe, like Bill Murray's character, who ultimately found patience and then happiness in appreciating what was there, not tomorrow, but today … that we find happiness today but also see that our "Groundhog Days" will one day be over. And that all our "todays" are making opportunities for tomorrow's new beginnings.
Keep Reading ...
Show less
Photo courtesy of United States Holocaust Memorial Museum
Some things should never be forgotten. That's why tomorrow's International Holocaust Remembrance Day was created by the United Nations to mark the unspeakable horror of the Nazi's genocide of over six million Jews. An event beyond comprehension, which makes us wonder why many U.S. states don't require students learn about the horrors of the Holocaust. How can we prevent atrocities from happening again if we don't understand how they happened before? And as we see heartbreaking images from Ukraine, it reminds us of Holocaust images, and that evil will always be evil …


| | |
| --- | --- |
| red head assets.rebelmouse.io | Shoes. Seemingly endless shoes. That's all I can think about. |
| Black assets.rebelmouse.io | I know you cannot be talking about my closet. |
| red head assets.rebelmouse.io | Far from it! It's an image that's forever burned in my memory. A pile of shoes, each one representing a life lost. Each one a story onto itself. Each one proof of something we should never forget. |
| Black assets.rebelmouse.io | Normally, I would ask you to tell me what you are talking about or accuse you of being overly dramatic. But, not this time. |
| | |
| --- | --- |
| red head assets.rebelmouse.io | When you sent me the article about the United Nations recently issuing a strong message against the denial or the distortion of the facts surrounding the Holocaust – the first thought that came to my mind was the shoes. How can you ignore the piles of victims' shoes?! |
| Black assets.rebelmouse.io | The same way you can ignore the documentary footage of the liberation of the concentration camps, and all the horrible evidence that was left behind. How do you ignore the many books on the subject, not to mention the first-hand accounts of survivors? |
| red head assets.rebelmouse.io | I'm not saying that can be ignored. It's almost unimaginable and horrible and heartbreaking. But there's a difference between learning about history and literally standing feet away from thousands of shoes that had been worn by the victims, each representing not only a life but a family, a community. |
| Black assets.rebelmouse.io | I understand. I read The Diary of Anne Frank in school, but when I walked through the actual house in Amsterdam, it became real. And overwhelming. That is why there are Holocaust Museums and memorials around the world. And, unfortunately, there were enough victims' shoes to allow them to be displayed in many places. |
| red head assets.rebelmouse.io | I remember the first time I went to the United States Holocaust Memorial Museum in Washington, D.C. It was only a few weeks after it opened in 1993, and although I was 30 years old and had learned about the Holocaust in school, it was still overwhelming. I'll never forget that the exhibit with the shoes was filled with visitors, yet it had an eerie silence. |
| Black assets.rebelmouse.io | Yes, it is a haunting experience. I remember you telling me, decades later, that after you and Sawyer visited the museum, of everything on display, that also was what struck her the most. And, I am guessing she probably heard less about the Holocaust in school than we did. |
| red head assets.rebelmouse.io | Growing up, I remember hearing about the loss of 6 million Jews during the Holocaust, and that the world should " never forget ." But it seems that people are not only forgetting, but many are now denying it ever happened! Why else would the United Nations have to issue a statement?! |
| Black assets.rebelmouse.io | A statement that also urges social media platforms to take active measures to combat antisemitism and Holocaust denial or distortion. |
| red head assets.rebelmouse.io | What scares me the most is that the more people deny the Holocaust ever happened, the more likely such horrors can happen again. That history will repeat itself. |
| Black assets.rebelmouse.io | You are the lover of history, not me, and for years have told me that not acknowledging history dooms you to repeat the mistakes. But, that is also true of all of us. If we do not acknowledge mistakes, then we are apt to repeat them. |
| red head assets.rebelmouse.io | Fine, but how do you combat not only hate, but lies, lies that are accepted as truth. Tell me how you do that. |
| Black assets.rebelmouse.io | There is no easy answer. That may be why there is an International Holocaust Remembrance Day . But, one day a year is not enough for each of us to focus on seeking the truth, and not repeating things if we are not sure they are true. And, sharing what we know to be true. |
| red head assets.rebelmouse.io | Like the overwhelming emotion brought on by piles and piles of victim's shoes? Shoes that scream out, "Never forget" or, maybe more accurately, "Never forget me." |
| Black assets.rebelmouse.io | The only way to make sure we "never forget" is for us to "always remember" and help others do the same. |
Keep Reading ...
Show less
New Year's Eve is one of those nights (Black calls them "forced" celebrations) that often have great expectations attached to it. Many people make a big deal of it, but we prefer a lowkey approach, making the evening "special" by spending it with special people – for Red, her daughters, and for Black, close friends.
Some years it can be a bittersweet celebration (if loved ones have passed or no longer live close to home), but that can remind you of what's most important.
So, let's all toast to the promise and hope of a new year … and to champagne and toilet paper.

| | |
| --- | --- |
| Red assets.rebelmouse.io | New Year's Eve seems like the perfect time to stroll down memory lane, although I'm guessing your memories are much more interesting than mine. |
| Black assets.rebelmouse.io | "Interesting" is a subjective word. Regardless, are you talking about memories in general? Or, New Year's Eve celebrations? |
| Red assets.rebelmouse.io | Actually, it was just a passing comment. But since you've always seemed to make a bigger deal out of New Year's Eve than I have, are there any years that really stand out? |
| Black assets.rebelmouse.io | Truth is the most memorable ones are the ones spent with celebrating with closest friends versus crowds. In fact, I think I have spent more than half of my New Year's Eves with John and Diana. Although, I will never forget bringing in 2000. |
| | |
| --- | --- |
| Red assets.rebelmouse.io | Oh, this should be interesting. Where were you? What did you do? |
| Black assets.rebelmouse.io | I do not remember the details. But, I do remember everyone was panicked about Y2K. In fact, for almost the entire year leading up to it, people were certain it would create havoc with computers and computer networks. It turned out to be a non-event. |
| Red assets.rebelmouse.io | That's it? I thought you were going to talk about some major celebration to mark the turn of the century. |
| Black assets.rebelmouse.io | No, although not always successful, I always tried to avoid major celebrations. Anyway, 1999 was when I was collecting wine and many of us were certain there would be a shortage of vintage Champagne. And before you ask, vintage Champagne means it is made with grapes from a single year's harvest which happens only three or four times in a decade. |
| Red assets.rebelmouse.io | Was 1999 one of those years? |
| Black assets.rebelmouse.io | I will not bore you with the details, but Champagne is aged in the bottle (vintage for significantly longer than non-vintage releases) so it was from earlier in the decade. Anyway, collectors starting buying large quantities of vintage Champagne, which can last decades when stored properly, thinking it was "now or never" … |
| Red assets.rebelmouse.io | I know better than to ask how much you bought. |
| Black assets.rebelmouse.io | Enough to last a lifetime. Maybe two lifetimes. Which was a good thing as I lost most of it in the divorce. Anyway, the interesting thing was that because so many wine collectors were stocking up on vintage Champagne, the shortage became a self-fulfilling prophecy. Similar to when people were hoarding toilet paper. |
| Red assets.rebelmouse.io | Only you would compare the two. One's a luxury item and one's a necessity you'll ultimately use. I guess the good news though is that now you'll never run out of Champagne. |
| Black assets.rebelmouse.io | Except, my offsite wine storage was broken into years ago – and they stole all the Champagne. Good news is John and Diana still have their stash. |
| Red assets.rebelmouse.io | So, are you going to spend New Year's Eve with them? |
| Black assets.rebelmouse.io | Not the entire evening, but the three of us plan to toast love, friendship, and the end of 2020 … with masks, social distance, and some vintage Champagne. |
Keep Reading ...
Show less