Memory Lane
Readers & High School Students Love This Spreadsheet
When it came time to write the Introduction to our book, What I Learned About Life When My Husband Got Fired!, Red, unsurprisingly, went on (and on and on …) for pages with her usual blah-blah-blah. Black, on the other hand, cut to the chase and provided the book designer with a Microsoft Excel spreadsheet. Little did we know that comparison chart would take on a life of its own after the book was launched. Not only does it capture our extreme differences in a visual and highly efficient way, but the chart has been the source of lively conversation by readers, many of whom started describing themselves (and even family and friends) as being more Red-like or Black-like.
But perhaps nothing surprised us more than the day Red's oldest daughter came home from high school with an "inventory update" about our book. (The story of how our book became a textbook can be found here.) She had been helping out in the front office and was asked to do an inventory of textbooks, and was less-than-thrilled when led to a storage room full of books. However, her mood improved when she saw stacks of our book, and she was amused as she started reviewing the condition of each book. Not that she was condoning how the students treated the books, but she discovered that many of the cartoons at the beginning of each chapter had been torn out as "keepsakes" by students, as well as the comparison chart!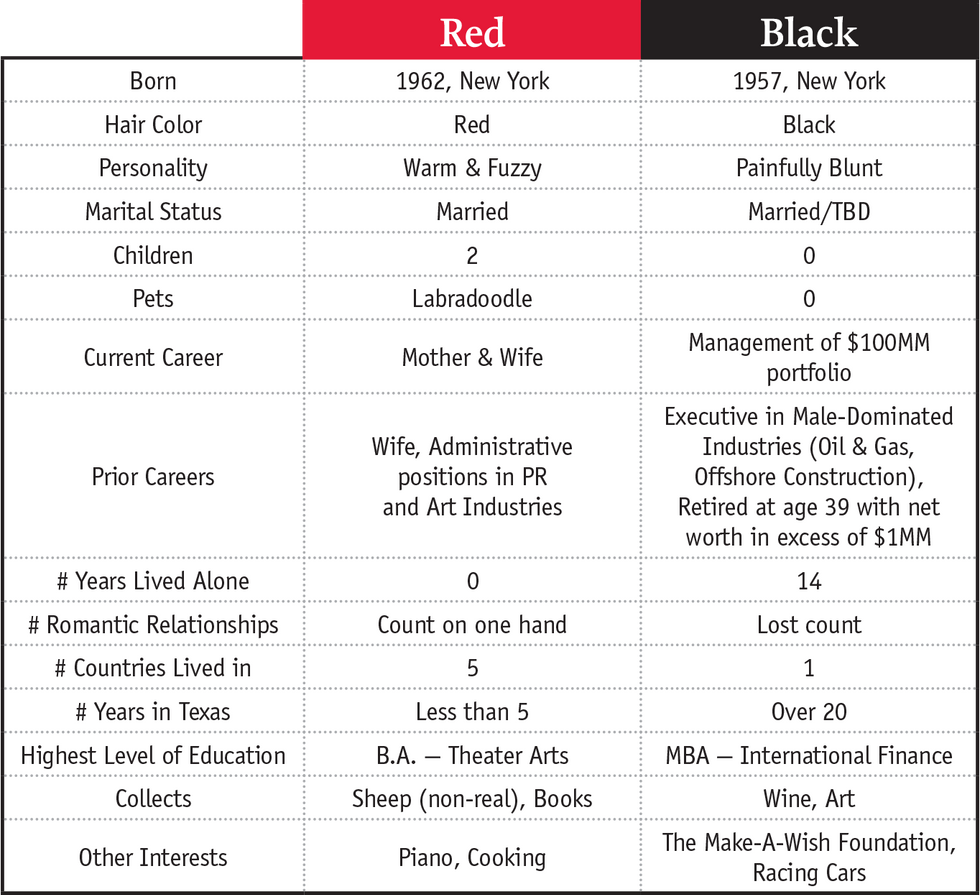 Table as of April 2004What I Learned About Life When My Husband Got Fired!
Photo by Red
It was one of those mindless questions, "What was your favorite childhood book?" And although I couldn't answer the question, it brought back wonderful memories of my favorite book while I was still living at home. Which recently turned into a new tradition … and maybe the highlight of my summer …
I can remember it as if it was yesterday – I'd be sitting up in bed late at night, reading (well, more like devouring) a biography of Winston Churchill by William Manchester. At almost 1,000 pages (and weighing in at over three pounds), you'd have thought it a college reading assignment, not something for pleasure.
Although more of a Tudor history fan, I found the biography of Churchill (a larger-than-life, literally and figuratively, character, but I won't bore you with the details) difficult to put down. And it had my complete attention right up to the last word. But then, I felt disappointed. And a little cheated.Because not only was I going to miss my nightly "date" with Winston, but the book left off in 1932. Now, anyone who knows Winston Churchill knows he's most famous for his extraordinary role in World War II (1939-1945). But then I was relieved to learn,
I had read the first book in what was a planned trilogy. I couldn't wait for the second one to be released, and five years later, I devoured that book, too (it was a mere 750 pages), and couldn't wait for the third and final book. But then the author died. And I thought, well, that's it.
Fast forward decades later. When Black asked her question, I couldn't remember the book title, which drove me crazy. Rather than go upstairs and find the books, I got online and discovered the most unexpected, but great, news …
William Manchester had started the third book and, knowing he was going to die before being able to complete it, asked author Paul Reid to finish it. Apparently, it was released in 2012, when I was in the midst of being a single mom with two young children and working on Red & Black, so no time for reading. I immediately ordered it, but I wasn't prepared for what happened,
Even before "Defender of the Realm" arrived (this one's over 1,000 pages), I decided this would be my summer project. I'd start over Memorial Day weekend with the goal of finishing by Labor Day. But once I curled up on the couch, after office hours and on weekends, often with a Dunkin' iced coffee beside me, I was transported back almost forty years. Once again, I couldn't put it down. But this time, I had a companion. As Moo, my beloved labradoodle, decided that she loved having this "quiet time" with me.
I finished the book shortly after July 4 and realized it would be far more than a wonderful summer memory. It was the beginning of a new "tradition" … making time to get back to being a bookworm. It reminded me of the importance of escaping and recharging my batteries. And spending time with Moo. And based on Moo's excitement the minute I'd pick up the book, including immediately jumping on the couch to join me, I think it might have been the highlight of Moo's summer too.
Keep Reading ...
Show less