Thanks, Daddy!

We were both born in New York – Black in 1957 and Red in 1962 – and raised in the same house by the same parents. But that's where the similarities end. (Except maybe for a few outfits when our mom made us dress alike.) In fact, the more you get to know us, the more you may ask if we really are related.
Ugly Outfit Competition Anyone?
Now about those outfits … our dad took the photo (circa early 1970's) and we think the expression on our faces says it all. Have you ever seen such awful outfits in your life? We know they were crocheted with love by our grandmother, or was it our mom? We can't remember. Oops. We're in big trouble now!
Want a highly succinct and visual way to see the differences between Red and Black? In the Introduction to our book, What I Learned About Life When My Husband Got Fired!, Red goes on for pages with her usual blah-blah-blah while Black cut to the chase and provided the book designer with a Microsoft Excel spreadsheet ...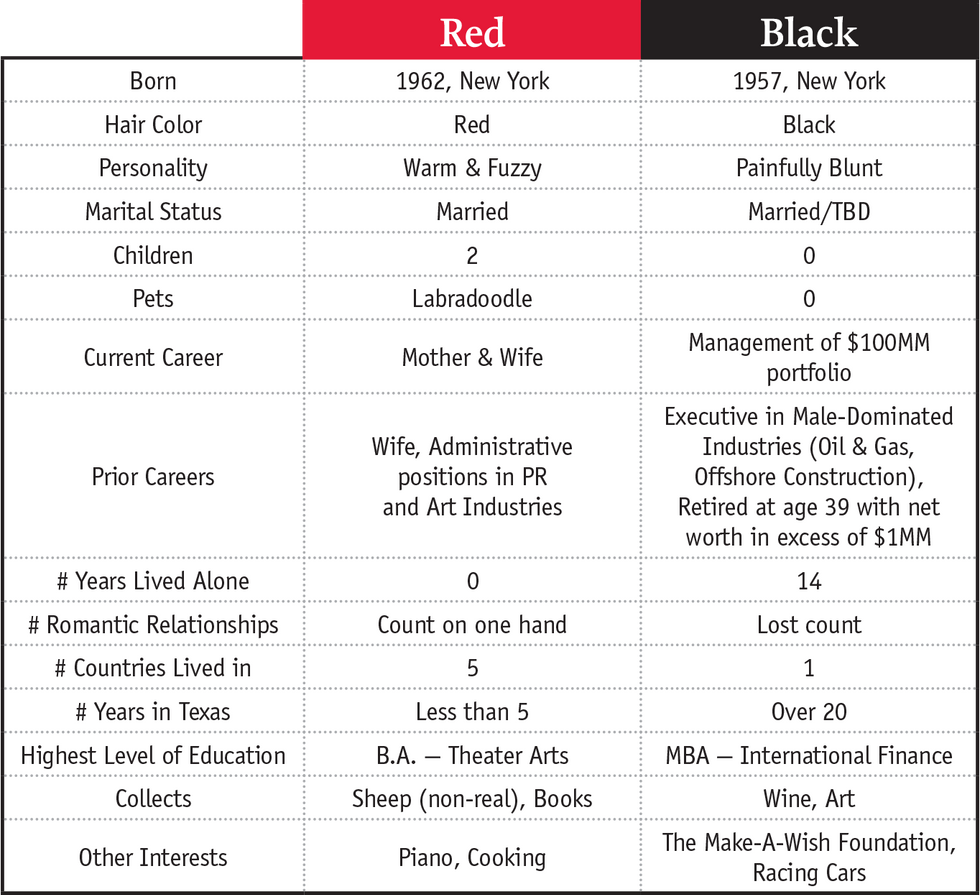 Table as of April 2004What I Learned About Life When My Husband Got Fired!
Design by Sawyer Pennington
Photo by Kirby D., Design by Sawyer Pennington
Red has a crisis and turns to her older sister, Black, looking for answers (and sympathy). Instead, Black basically tells her to "grow up" and proceeds to help her take control of her life instead of having her life control her ... and then decides to turn her sister's crisis into a book – a brand – a business. After all, what are sisters for?!
When Neiman Marcus launched our book, What I Learned About Life When My Husband Got Fired!, it was intended as the basis of a sitcom. But life never seems to go as planned. There was no way to know that our book would take on a life of its own and become a bestseller – read by men and women of all ages (from middle school students to senior citizens). Or, that we were to begin our journey into the world of education and then criminal justice.
Join us on our journey ... and let us join you on yours.