From the back flap of our book, What I Learned About Life When My Husband Got Fired!
Unlike her sister, Mandy Williams (aka "Black") is all business. By the time she was 21 she had an Economics degree from Wilkes College (now Wilkes University) in Pennsylvania and an M.B.A. in International Finance from New York University and London Business School. After a short time in New Orleans, she moved to Houston during the oil boom of the 70's. She survived – no, she flourished – during the ups and downs of the oil and gas industry, and managed to retire from corporate life before she was 40.
No longer with a day job when she married her second husband, her life didn't provide enough excitement and challenge. So, she began racing cars, first Porsches and then Ferraris, and became the first woman to race the road course at Indianapolis. She has also been involved with The Make-A-Wish Foundation for over 30 years, raising over $1 million for them. Black, the ultimate pragmatic, lives in Houston where she approaches everything with high-speed intensity and determination.
The photo was taken by artist Fletcher Benton in 2003 when he went to cheer Black on during the Ferrari Challenge races at Infineon Raceway, Sonoma, California. Years prior, he and Black had raced Porsches together but didn't know each other at the time. That didn't happen until Black started collecting art.
Want a highly succinct and visual way to see the differences between Red and Black? In the Introduction to our book, What I Learned About Life When My Husband Got Fired!, Red goes on for pages with her usual blah-blah-blah while Black cut to the chase and provided the book designer with a Microsoft Excel spreadsheet ...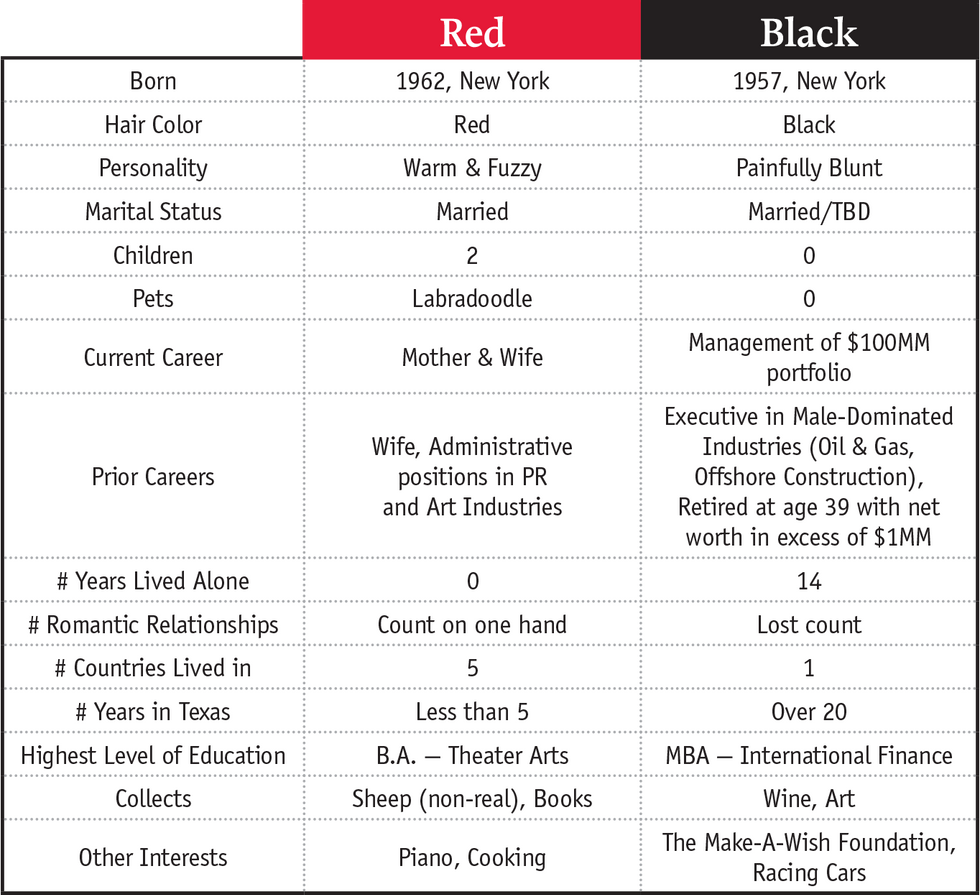 Table as of April 2004What I Learned About Life When My Husband Got Fired!
Design by Sawyer Pennington
Photo by Kirby D., Design by Sawyer Pennington
Red has a crisis and turns to her older sister, Black, looking for answers (and sympathy). Instead, Black basically tells her to "grow up" and proceeds to help her take control of her life instead of having her life control her ... and then decides to turn her sister's crisis into a book – a brand – a business. After all, what are sisters for?!
When Neiman Marcus launched our book, What I Learned About Life When My Husband Got Fired!, it was intended as the basis of a sitcom. But life never seems to go as planned. There was no way to know that our book would take on a life of its own and become a bestseller – read by men and women of all ages (from middle school students to senior citizens). Or, that we were to begin our journey into the world of education and then criminal justice.
Join us on our journey ... and let us join you on yours.